Stefan Georgi is known for overdelivering. This is true whether he's giving a presentation at an event, being interviewed on a podcast, or doing one-on-one coaching work with a private client.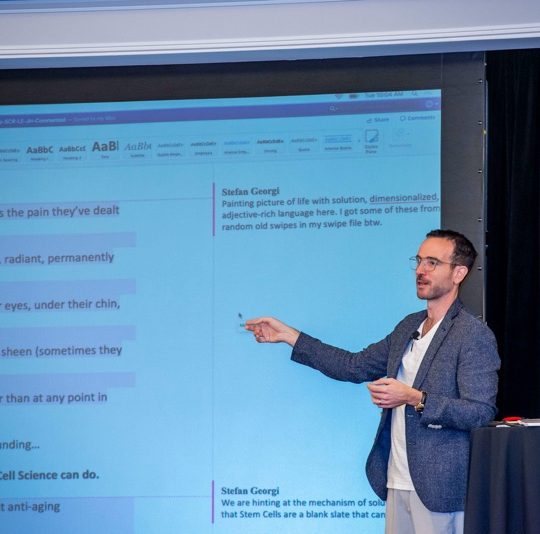 Want to check out Stefan in action?
Here's a list of podcast and live events featuring Stefan:

FORBES: Do The Math For The Client To Land The Deal
A little while back, I shared several of my best strategies around closing clients with Forbes… And today, an article came out! The strategies I share in there are some of the BEST advice I've got on this topic, so make sure to check it out. It's a great resource to help you land your dream clients. (I'm super pumped and proud about it! Hope you enjoy it!)

From Digital Marketer to 'Lead Paramedic'
Troy Ericson used to think he was a normal entrepreneur. Less than a year ago, he was running Facebook ads, designing funnels, and writing emails as a freelancer for a remote digital marketing agency… Typically normal 'digital marketing' activities. "I had no idea that one of my skills was about to change the game."

PODCAST

Unstoppable Business Podcast
Fastest Copywriter Alive with Stefan Georgi
Stefan Georgi is a direct response copywriter whose words have grossed over $700MM. He's the inventor of the RMBC method, a systematic approach to writing high-converting sales copy in less time. He's the Co-founder of Copy Accelerator, a high end copywriting mastermind whose 160 members generate over a billion dollars in sales. In this episode, Stefan reveals the process behind his famous RMBC method and the story behind his rapid success.

PODCAST

Anik Singal
How To Make A Million Dollars A Year With A $35K Mastermind! – Feat… Stefan Georgi
Get this…You actually do LESS work, than if you were selling a bunch of products. Our guest today is Stefan Georgi. He is arguably one of the best copywriters in the world.His copy has generated over $700 Million in sales for him and his clients. Stefan also has a mastermind where the members combined are doing over $1 Billion a year!Get the insider tips as Stefan reveals the genius behind creating A Million-Dollar Mastermind.You're going to want to take notes… And you're going to want to rinse and repeat what you've learned.

PODCAST

The Copywriter Club
Writing Sales Letters with Stefan Georgi
It's a bit early to pick a best episode of 2020, but we predict this will be an early contender.
Master copywriter, Stefan Georgi, joined us for the 171th episode of The Copywriter Club Podcast to talk about how he became a copywriter who has helped his clients earn $700 million is sales. That is NOT a typo. Stefan is a terrific copywriter and this interview is practically a workshop on writing better sales letters.

PODCAST

She's Making An Impact
She's Making an Impact Podcast with Rachel Ngom
Stefan Paul Georgi is a direct response marketer and entrepreneur who's sold over $500 million worth of products online. He currently lives in Las Vegas, NV with his wife and daughter. He can easily be touted as one of the best direct response copywriters on the planet with his implementation of Emotional Response Marketing.

PODCAST

Making Bank
Making Bank Podcast with Josh Felber
So, you've finished your article and you're ready to hit that publish button but one last nagging problem remains: writing a headline. Often the hardest part of an article to write, it can be tempting to just throw a generic descriptor up, but that is a serious mistake.

PODCAST

INspired INsider with Dr. Jeremy Weisz
How to Excel and Strengthen Your Integrity with Renowned Direct-Response Marketer Stefan Georgi
On this episode of Inspired Insider, you'll hear from business leader and entrepreneur, Stefan Georgi. In his conversation with Jeremy, Stefan opens up about the impact his father had on his life, successes he has celebrated along the way, why he loves copywriting, and much more. You don't want to miss a minute of this powerful episode featuring Stefan's story!

PODCAST

The Garlic Marketing Show Podcast
Your Business's Hero's Journey with Stefan Georgi
Ian Garlic speaks to his friend Stefan Georgi on this episode of the Garlic Marketing Show podcast. Stefan's copywriting skills are responsible for billions in sales! He has an acute understanding of how to best speak with customers in a way that translates into sales, and he shares his tips for others looking to write their best sales copy!

PODCAST

Beyond Your WHY
How To Make Half a Billion Dollars With Your Words
In this episode, Stefan Georgi – How to make half a billion dollars with your words (Challenge) discover your WHY today! www.whyinstitute.com

PODCAST

Geniuses Of Copywriting
Geniuses Of Copywriting – Stefan Georgi
On this episode of the Geniuses Of Copywriting podcast – one of the best copywriters around Stefan Georgi joins us for a very special episode.

PODCAST

Adil Amarsi
Adil Amarsi with Stefan Georgi
On today's episode, Stefan shares massive copywriting tips every aspiring copywriters MUST take notes of. As he goes deep into the concept of "swiping", discover his take and pieces of advice to copywriters struggling to get a higher offer matching their expertise. Also, find out how to make copies through finding stories.

PODCAST

The Copy Closer Podcast
The Copy Closer Podcast With Stefan Georgi
In this episode, Stefan Georgi talks about how he was able to make $70,000 per month as a copywriter. He also dives deep into how he was able to write 8-12 long form video sales letters with ease. If you're even slightly interested in writing high converting copy, listen to this episode now!