What's up 🙂
First off – I want to say thanks to everyone who shared their habits with me. I got a TON of responses to my last article, and I've really enjoyed reading them. I'll be replying to each of you individually via email – but I just wanted to make a note here too.
As far as today's article…
I want to talk about the importance of having a roadmap in your business.
Recently, I spent several hours working on some big picture stuff for Copy Accelerator…
And, specifically…
I spent this time further developing the foundational frameworks we're going to use for the mastermind as we move into our second year.
I wrote about some of these concepts two weekends ago, when they were first being conceived…
But, I was able to further refine them…
And I'm attaching a picture of what I've got currently so you can check it out too.
This isn't "final"…
Some of the names and word choices will change…
But I still think it's pretty cool: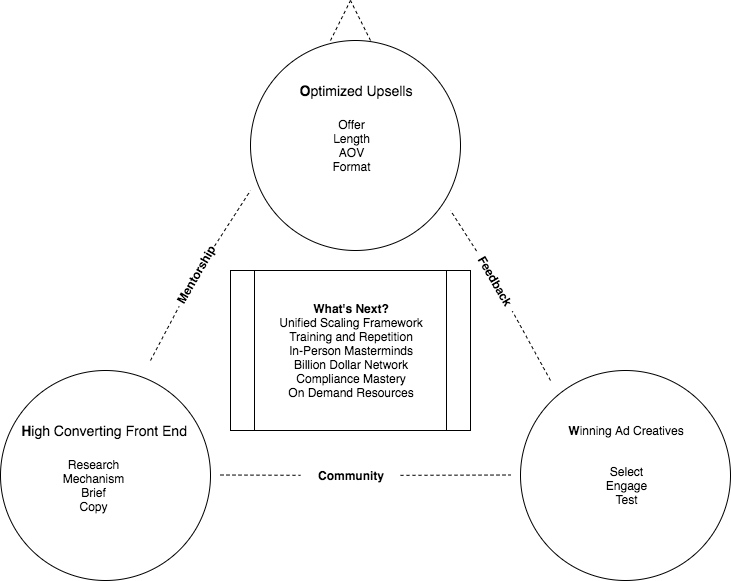 Now, let me give you some context for what you're looking at…
The Promise of Copy Accelerator is to provide an unparalleled training and mentorship program that gives you everything you need to consistently create winning offers that scale on cold traffic.
And the graphic above is used to demonstrate how we fulfill this promise.
Specifically…
It shows how we help our members to achieve mastery in three spheres:
High Converting Front End
Optimized Upsells
Winning Ad Creatives
And it emphasizes the fact that all of our members…
Are part of a community of like-minded direct response copywriters and marketers…
Enjoy mentorship from the world's best experts who have been where they want to go…
And receive in-depth feedback on every piece of copy that they produce.
Next, let's look at the middle part…
Where it says "What's Next?"
What's listed there are the assets and the processes that will allow our members to achieve their HOW.
The phrasing isn't final in this section (for example, I don't really like the phrase "On-Demand Resources")…
But I do think it's a pretty solid start.
What's pretty neat is that we're going to be rolling out this framework at our February event…
Then, making sure that everything we teach and share ties back to this foundational framework as well…
But, believe it or not…
I'm not sharing all of this to make a pitch for Copy Accelerator or our event…
And you won't even find a link to our event sales page in this article.
Instead…
I'm sharing this because, after spending a few hours doing "deep work" on this yesterday…
I feel like I have more clarity about Copy Accelerator than ever before…
And my guess is that many folks on my list could benefit from doing something similar.
For any big project or business that you're focused on…
It's just so helpful to set aside some time to develop a roadmap…
Something foundational…
That all of your other actions and decisions will tie back into.
For the diagram I shared here…
It's really like a cheat sheet.
Because now…
For any decision we make about the program…
Or content we create…
Or training we do…
We can make sure it's related to this foundational framework.
It makes our lives easier…
And, it will help Justin and I to amplify our effectiveness even more.
That's it for today.
I'm going to be responding to some emails and doing some admin work for the next hour or so…
Then jumping into prep for today's Copy Accelerator call.
On the call today I'm dissecting a new sales letter that's killing it for me and Cody…
So it should be a really good call and super valuable to our members.
– SPG
P.S. I recently went on a podcast with Rob and Kira of The Copywriter Club. It was just published recently, and you can listen to it here. There's also a transcript of the podcast on that page, which is really nice since I tend to talk too fast (something I'm working on).
P.P.S. Want to see me open the biggest open-loop ever? Right now me, Justin Goff, Chris Haddad, and Dan Ferrari have an email thread going where we're talking about joining forces on something in 2020. It might be our own product/offer. It might be a training of some sort. Might be something else. Or we might not do anything. But still – it's a pretty tantalizing possibility, right?
P.P.P.S.This post originally came from an email I sent to my private list. If you want to see more stuff like this from me, you can apply to join my list using this link.