A while back, my wife and I had a weird conversation about getting punched in the face.👊
We were watching some UFC Fights…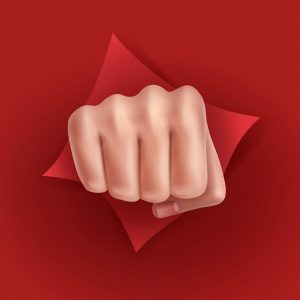 When Laura made a comment about how she kind of regrets never being punched in the face.🙄
That might sound weird…🙃
But her point was that it would be nice to know how she would respond in that type of situation. How would she handle it? Would she fight back hard, or would she crumple into a fetal position after the first strike?
I laughed at first, but the more I thought about it, the more I understood.
The first fight I got into was in 7th grade with a kid named Clint. It was a stupid fight, where two other kids had tripped him when he wasn't looking, and then he thought it was me. He got in my face and threw the first swing…
But I DEMOLISHED him after that. Like the judges would have scored it 50-44 at best.
Neither of us had any serious or long-lasting damage, but it was good to know that I could fight.
Now my next serious fight was in high school, with my best friend Cameron…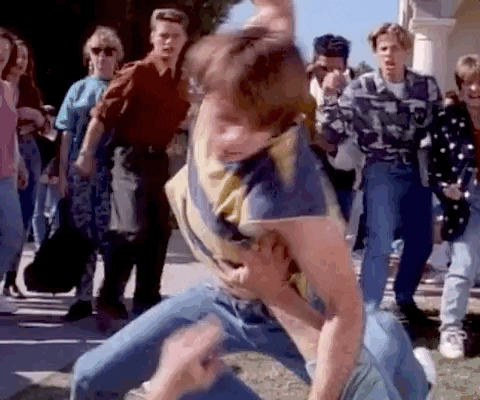 And the reason behind it was equally stupid.
Cameron and I were at a party at some senior's house, smoking a hookah, and then one of us knocked it over, and it broke.
I say one of us because it happened so fast that we both blamed the other person.
It shouldn't have been a big deal, but it turned into this "beef"…
So a week later, we got into a fight.
There was a place where all of the fights at my school took place…
It was a parking lot about 3 minutes from campus…
And so one day after school…we caravanned over and battled.
There were probably 50+ other kids watching…
And I got my ass kicked.
Cameron started the fight by bull-rushing me, and if I'd been smart, I could have kneed him in the nose and probably stunned him…
But I didn't, he tackled me and pinned me to the ground…
And then he went to town, laying haymakers on my face.
By the time I tapped out, I was covered in blood…
And the funny thing is that I had to go to tennis practice after all of that (yeah, I'm aware of the contrast LOL)…
My coaches were like, "WTF" because I had cuts everywhere, my shirt was soaked in blood, my nose and lips were split open, and I had swelling and bruising already…
But I just told my coaches, and later my parents, that I had run into a parked car!
They only half-believed me, but they couldn't prove it was anything else…
And that was that.
[Oh, and by the way, that fight squashed the beef with Cameron right away. We were good pretty much immediately afterwards and back to being best friends. We're still best friends to this day, actually – we live in the same neighborhood in Vegas, golf together almost every week, and are even involved in each other's businesses!]
Now besides those two fights…
There were less primal ones too.
We used to hang out in another parking lot on the weekends when we were teenagers, and sometimes we'd box. I loved to box. We'd put on gloves, and I'd go three rounds with pretty much anyone. Occasionally our other friends would even place bets on who would win or if I could go three rounds against some super athletic dude.
I always could. Even though I smoked cigarettes back then and wasn't exactly an "athlete"…
I had (and like to think I still have) really good stamina and endurance. I also had good footwork (thank you tennis!) and was very good at jabbing, darting, ducking, and not taking too many big shots. Every now and then, I'd even land a big blow of my own.
And finally, there's the only time I ever got knocked out cold.
​​I was boxing with my friend JJ at my parents' house when he landed an uppercut directly beneath my jaw. I remember my legs flying up from underneath me, and then when I opened my eyes and regained consciousness, I was lying in the grass.
My dad walked out, saw JJ hovering over me like Muhammad Ali after knocking out Sonny Liston, then just chuckled and went back inside.
I guess it was a different time.
Anyways though, why am I sharing all of this?
Because, to my wife Laura's point, it's kind of nice being punched in the face. It's good to know that you can take it.
And it's true of those proverbial punches too.
Some of you may know that when I was in my early twenties, I was robbed at gunpoint.
​​For at least 2 minutes, I had a gun pointed directly at my head…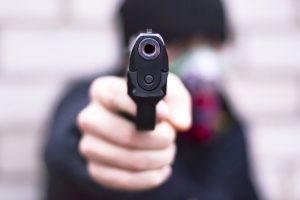 And this includes a portion where the two robbers had me get down on my hands and knees, face to the ground, and then held a gun to the back of my head executioner style.
It sounds dramatic (and it was dramatic), but I'm glad that this happened too.
Why?
Because it actually gave me more confidence. The whole time I was being robbed and carjacked, I was calm AF. I didn't panic or freak out. I was steady. And now I know that in those types of situations, I'm reliable.
And there have been many other situations…
From tornado warnings…to near-fatal car crashes…
It's good to know the kind of person you are when shit hits the fan.
So, while I'm not suggesting anybody goes out and picks a fight…
What I am saying is this:
Maybe we shouldn't be so afraid of shying away from danger either. Don't be stupid. But if you're living a life where there's no element of risk, it may be difficult to really grow as a person.
You don't have to go fight battles or nearly die…
But at the very least, keep stretching yourself. Get out of your comfort zone. Test yourself.
You'll generally be very surprised by how well you respond in novel or strange situations…
And as that happens, you'll probably find that your confidence grows as well.
– SPG
P.S. This post originally came from an email I sent to my private list. If you want to see more stuff like this from me, you can apply to join my list using this link