On Episode 11 of Road to a Billion, Kimi Du asked an interesting question…❓
Ostensibly it was about avoiding burnout…🤯
But really, it was about the importance of downtime. 
You see, as Kimi revealed during our conversation…
Right now, she's working 12 hours a day, 7 days a week…🕧
And she was looking for ways to avoid burnout.
The truth is though, it's pretty much impossible to work that much and not become burned out. 🔀
In other words…
It's a lot like a chain smoker saying, "How can I keep smoking two packs a day and avoid lung cancer?"…
Except, while you can get away with two packs a day for decades before any cancer is detected…
Normally, you can only get away with working non-stop 7 days a week for a few months….
Maybe a year or two at best…
Before you start to shut down.
And that's why we all need downtime.
Because, like I shared with Kimi during our conversation…
There's a paradoxical nature of downtime, at least in terms of its relationship to productivity.
That paradox is this: 
The more consistent you are with your downtime, the more productive you'll be during your work time.
The reason why is pretty straight forward:
Just like a battery…
You need to recharge regularly…
Otherwise, you'll quickly run out of juice.
Makes sense, right?
And if you want to see my answer to Kimi in its entirety…
You can check out the replay of The Road to a Billion here on YouTube.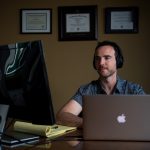 I linked to this specific answer I gave Kimi…
But the whole episode is killer…
So if you've got some time…
After you've watched my answer to Kimi's burnout question…
Go into the description and check out the time stamps…
Then jump around to some of the other questions that are interesting to you.
Here's a partial list of what we covered on yesterday's call: 
2:46 – Is there really a defining moment in our lives? Or is it just a human construct?
10:23 – How to give yourself permission to have downtime, without resorting to substance and alcohol abuse.
17:48 – The FASTEST way to improve your copy while building your portfolio, even if you only have 5 hours a day.
30:45 – Want to go from charging $8-10k to over $20k a month as a copywriter? Stefan and Ed share 5 simple tips you can apply immediately.
46:07 – Stop believing in your own bullshit! Why there's NO EXCUSE for you to not have copy samples. Plus, the sure win way in David vs Goliath showdowns for gigs.
51:12 – If you were a copywriting alien that fell out from the sky and had to make $5k in a week, only by relying on your copy skills, what would you do?
58:16 – When to add in graphics, images or screenshots in a sales letter. Plus, other design details, like font type and size, that can affect your promo's conversion.
1:08:40 – Stefan shares his FREE blueprint on how to be successful at affiliate marketing. (Value – Priceless)
1:18:44 – The BIGGEST mistake even high-level business owners are guilty of that can make or break their offers.
Lots of good stuff…
So hopefully, you'll check the episode out.
– SPG
P.S. This post originally came from an email I sent to my private list. If you want to see more stuff like this from me, you can apply to join my list using this link.