As you put yourself out into the public more, haters inevitably emerge.🎤
That's how it's been for me, at least, but I'm far from the only one…🤷‍♂️
And it's kind of a weird thing.🙄
At first, it bothered me a bit, but at this point I just shrug it off…
Or I go a step further…
And practice empathy.
I try and think of where the hater is coming from…
Along with ​​what it is about themselves and their life situation that makes them feel the need to be triggered by someone else…
And then, I kill them with kindness.🤗
Now here's the secret to killing someone with kindness…
You have to actually mean it.
If you're fake about it, and you're just being faux-kind…
It's easy to sniff out and it backfires.
But usually, when someone is hating on you, they are trying to pick a fight…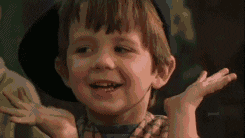 And the moment you deprive them of that battle, it takes the wind right out of their sails.
So for me, I just consider what they're saying…
Then I tell them the ways their criticisms have impacted my thinking…
And I point out characteristics or aspects about the hater that I admire.
Oh, and even more importantly, if the hater's criticism has any validity…
I really try to acknowledge that, own it, and modify my own behavior…
So that my hater makes me a better human being. ​​​​​​​​
To be clear, though:
​​This approach doesn't magically make the hater suddenly change their mind and like you…
But it does diffuse the situation most of the time.
​Now there are exceptions to all of this as well…
For example, a while back, there was the guy who was hating on me for being a proponent of networking…
And I created a video/post tearing him a new asshole.
In that case, the reason why was because this guy was putting out bad advice that could do real harm to other people…
So I had to say something.
But to me, that's different than when someone just goes out of their way to make it clear that they don't like you.
When it's personal, that's actually the best time to respond with love…
And trust me: going this route saves you SO MUCH time, focus, and energy.
Getting into petty fights and arguments does nothing but drain you…
It distracts you from your goals…
And it takes you off course.
That's how you let your haters win.
Don't do that.
Refuse to fall into their trap…
And either ignore your hater entirely…
Or smother them with love instead.
It's a much better approach.
SPG
P.S. This post originally came from an email I sent to my private list. If you want to see more stuff like this from me, you can apply to join my list using this link